Another Camping post well obv course I absolutely love the outdoors. Being in nature is so relaxing and we were lucky to have such beautiful weather when camping in Loch Lomond at Cashel campsite last year.
https://www.campingintheforest.co.uk/scotland/loch-lomond/cashel-campsite
Such a lovely clean camp site with showers and toilets. Amazing views and a very relaxing quiet atmosphere.
Pop up tents I think are the way forward when it comes to camping they are just so easy to quickly set up and once it's done you have more time to explore the location you are visiting.
There is various things that you can do in Loch Lomond climb Ben Lomond, do kayaking, go on a cruise, visit a variety of historic sites and loads more. My partner and I went on a lovely walk around our site and bumped into the Rowardennan Hotel. We discovered they had an outdoor deck area which we sat outside with a nice cold beer and enjoyed the stunning views of the loch and mountains.
For a quick and simple dinner my partner and I usually buy 1/2 disposable instant BBQ's . We also take our own cutlery, food and anything else we may need just saves money and also waste. You can buy the portable bbq's from your local supermarket looks like this:
In the morning we drove through Loch Lomond and bumped in to The Oak Tree Inn. Such a lovely Inn in which we enjoyed a very delicious hot breakfast which kept us energised for our journey back to Dunfermline.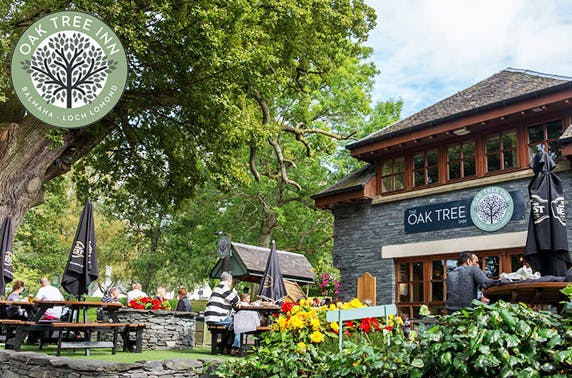 We had such an amazing time here and if you are visiting Scotland 100% Loch Lomond is a location worth visiting.